Written by Marc Bolick
Design thinking isn't some sort of secret code or complicated technology. In fact, it's the opposite, more of an analog problem solving methodology that is accessible to anyone. And while there are many different facets of how it works, including various tools, activities and aspects of a human-centered mindset that make up a design-led approach to a problem, there are a few core parts of the discipline that stand out to me as a recovering engineer.
If I had to pick only three things to teach someone about design thinking, they would be the idea of starting with empathy, 'co-creating' solutions with key stakeholders, and rapid prototyping to test and learn. I want to tell a personal story about the last of these, and save the other two for later posts.
My wife and I have been mulling over various house improvements for years now, and we are finally getting started with a major kitchen remodel. We moved into our Frank Lloyd-Wright inspired, mid-century modern home almost ten years ago, and early on I had a powerful urge to open up a wall between our kitchen and our den, making a pass-through peninsula. I'm a big believer in the kitchen being the soul of a home, and wanted to make it more inviting and accessible to family and visitors.
We discussed and debated the merits of this, but it wasn't until we started sketching out how this would work that we really began making progress. And, what really helped was when I started taking detailed measurements of our kitchen and den areas, and built up a model of the spaces in Google SketchUp. Suddenly, with a 3D model at our fingertips we were both able to see what the future state of the kitchen would be like, and we quickly decided to move forward with building the opening and peninsula.
That was years ago. We are not fast at this sort of thing! But, we now have a contractor and the demo work is done, there's a big, beautiful opening and the framing of a new countertop extending from the kitchen into the den. It's awesome! And, it's a huge amount of work and decisions for us as homeowners.
One of the decisions we had to make was about lighting, specifically over the new peninsula. And, like everything, my wife and I both did online research and stopped at the home improvement stores together and alone. We were not converging, nor making decisions quickly. What kind of lighting? How many lights? What spacing for the lights? What colors, lengths, diameters, etc.?
In her infinite wisdom, my most important stakeholder in this endeavor had a great suggestion: "Why don't we prototype the lighting?"
So, we did. I quickly visited my inventory of prototyping supplies and grabbed a glue gun, popsicle sticks, a sheet of shiny cardboard (to simulate chrome finish), three pieces of black construction paper, scissors, and a stapler. I then raided my box of never-again-to-be-used-but-I-can't-throw-away electronic junk and cut down a black, round cord into three pieces.
After about 30 minutes, I had three simulated pendant lights. I made the core of each light by rolling the shiny cardboard up and stapling it in a cylinder shape. Then, I took three sheets of black construction paper and stapled each around the shiny cores. I figured we could start by seeing if the black color we both liked was really what we wanted.
I then used the hot glue gun to glue a trimmed popsicle stick across the top of each cylinder, and glued the cord to the middle of each stick. Voila! Three believable pendant lights.
With a bit of fiddling I managed to fix the three lights, spaced in our best-guess configuration between the opening over the peninsula.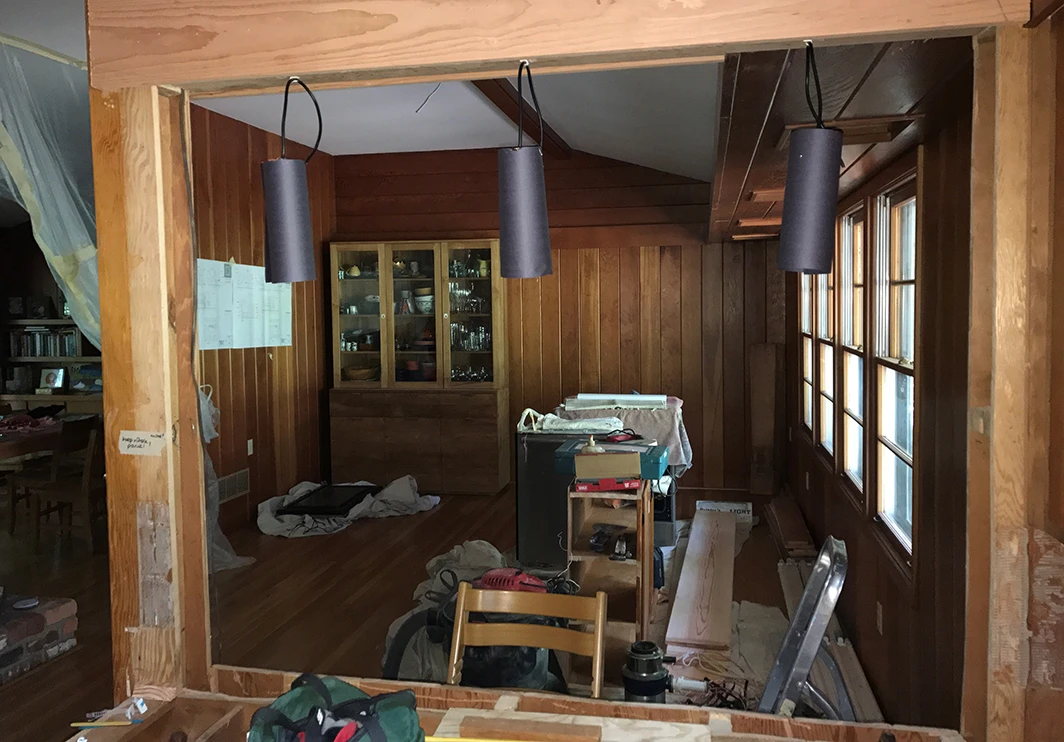 What ensued was a bit of true magic, the magic of prototyping. We looked at the configuration, took a couple photos, then I rehung just two of the lights in the opening, spaced evenly in the middle. Wow. It was immediately clear to both of us that three was the right number.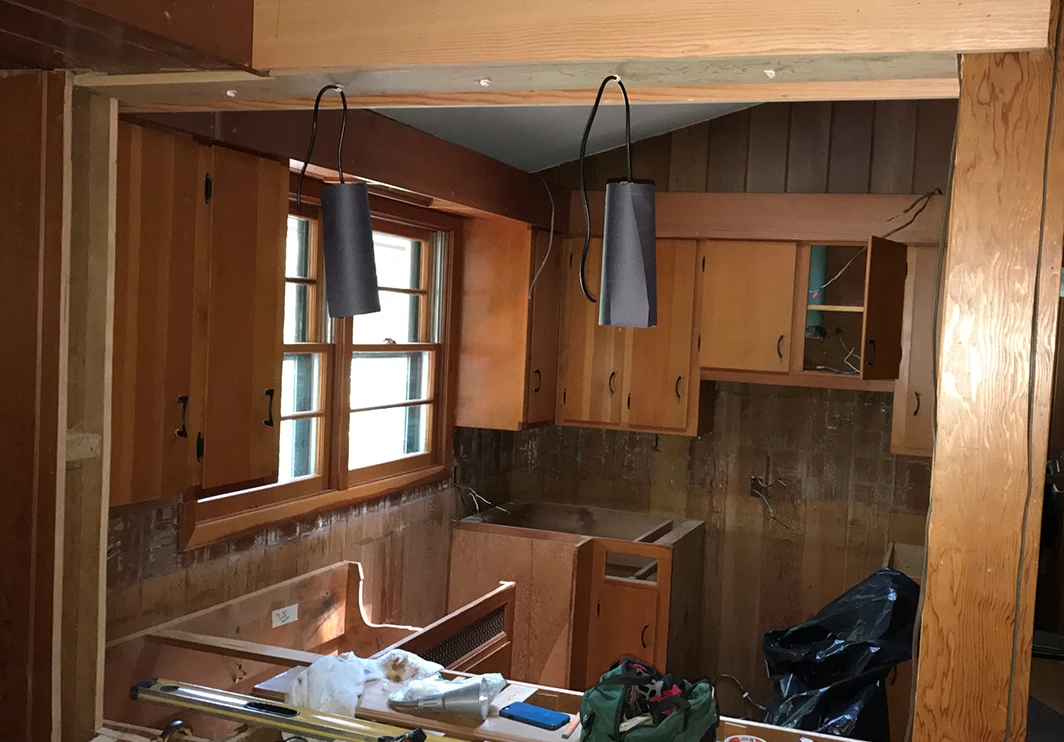 Now, on to things like how long to make the cords…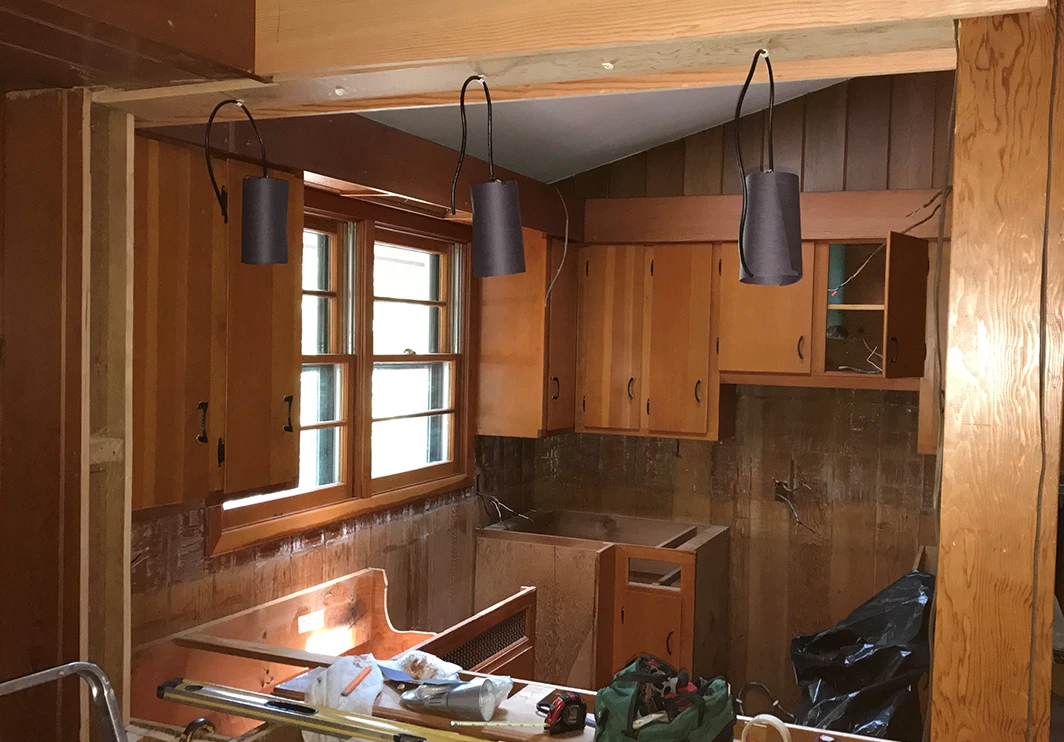 …what length should the pendants be…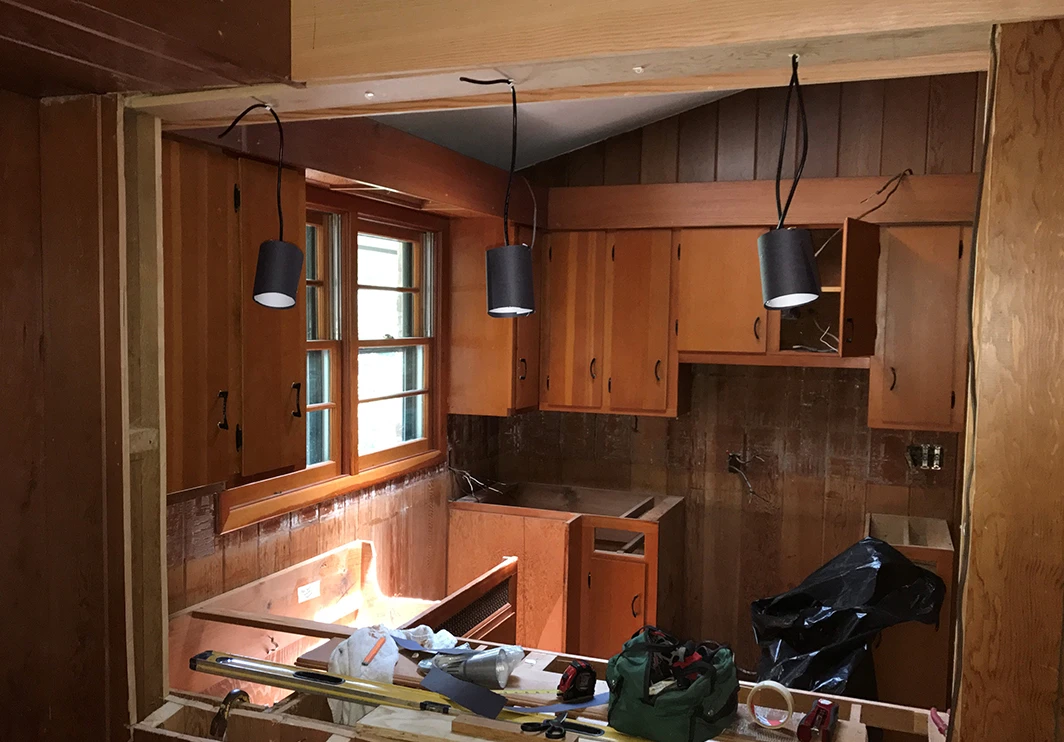 …and finally, is black the right color.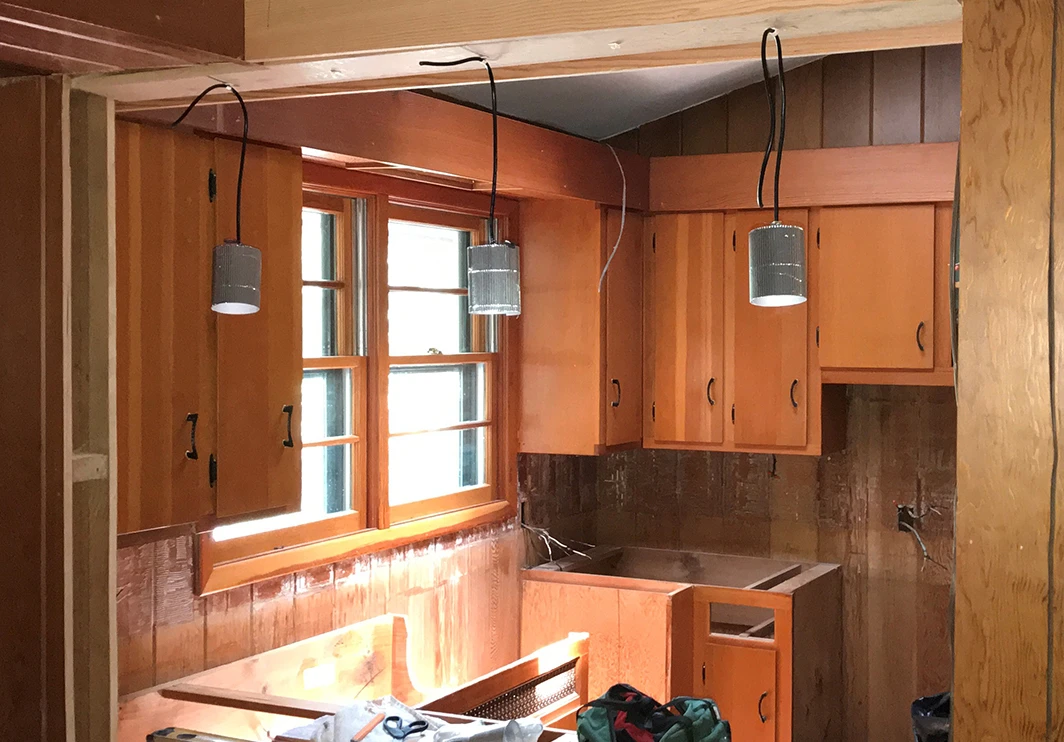 By adjusting the cord length, cutting down the construction paper, and then removing the black paper altogether, we were able to make quick decisions on what we wanted.
In the course of about an hour of collaboration, we went from my vague ideas in my head, and my wife's vague ideas in her head about what the best solution would be, to a common, shared understanding of the right kind, number and style of lighting for our kitchen.
What this story illustrates is how using simple prototyping techniques can help you make quick decisions and learn what works and what doesn't, often with the most simple and cheap of materials.
In the professional world, you can prototype new ideas for products and services, for example by creating a storyboard that describes the future state you envision for how your customers interact with the new design. Equally, you can model very complex systems and concepts.
We often say that we use prototyping for two main reasons: 1) It helps teams to take individual views of what the solution might be and make it a shared, collective understanding of that envisioned solution, and 2) it creates something physical that can be used to present the concept to others (customers, stakeholders, etc.) to get their response and feedback.
Sounds simple. It is simple, and it is extremely powerful. Prototyping allows you to validate ideas quickly with minimal investment. It gets people aligned, and provides a way for teams to get customer feedback before committing to final designs. And, most importantly perhaps, it's super fast.
These are all solid benefits that have real impact. So, whether your organization is a business, a non-profit, a school or social enterprise, prototyping is something you should try. Go on, get out the Play-Doh, Lego, pipe cleaners and other creative supplies and make to learn!
Please let me know what stories you have about prototyping, and chime in with your views on what works, and what doesn't.